Living History Events in or near Florida - Seminole and Creek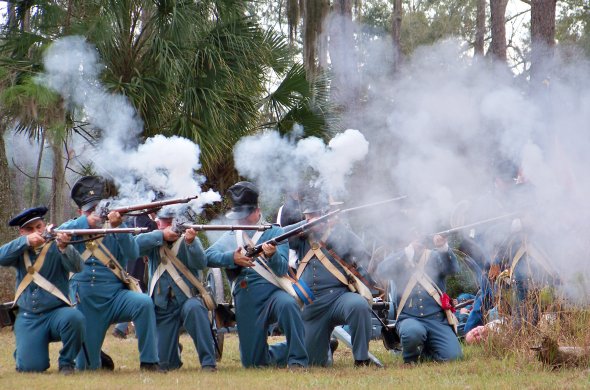 The 1st full weekend in January after New Year's Day. 2nd Seminole War Reenactment. Dade Battlefield Historic State Park. The Seminole resistance to removal from Florida brought about the Second Seminole War. The first battle with federal troops started on December 28,1835, when a column of 107 soldiers led by Major Francis Dade were ambushed by the Seminole warriors along the Fort King road. Dade Battlefield Historic State Park is located in Sumter County, a short distance from I-75 and S.R. 48, west of Highway 301. the address is 7200 CR-603 (South Battlefield Drive), Bushnell, Florida 33513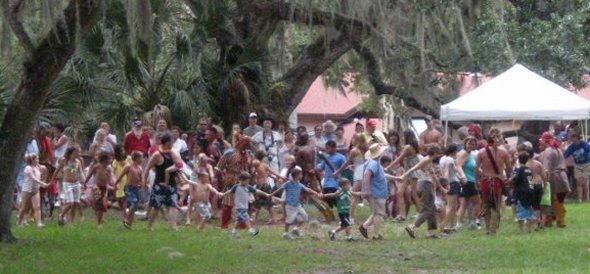 The Saturday of the 2nd full weekend in January. Multiple-period Living History Event. A Day in Florida History at the Spring Garden Plantation. 9:00, a.m.- 4:00 p.m. Bring a picnic lunch, lawn chairs, and swimming/snorkeling gear! Re-enactors please register so the park can plan the set up and meals by contacting Brian.Polk@dep.state.fl.us or 386.804.4003 or 386-985-4212. Reenactors' lunch is at the picnic tables. De Leon Springs State Park has a rich history dating back at least 6,000 years to the Mayaca Indians, who refused to allow Pedro Menendez beyond Lake George in 1566. The site was a British Land Grant then a Spanish Land Grant that became Spring Garden Plantation for most of the 1800s. It was burned by the Seminoles in 1835 and raided by Union troops in 1864. In the late 1800s the railroad arrived and the area was named De Leon Springs, with the spring called the Fountain of Youth to attract tourists. In the 1920s a hotel and casino were built, attracting wealthy guests. The 1950s brought the tourist attraction Ponce de Leon Springs, with the water skiing elephant, jungle cruise and other activities. The event is open to everyone who is interested in educating the public about Florida's history: reenactors, living history interpreters, period crafts demonstrators and musicians, historical organizations, local communities, museums, government agencies. Weapons firing as part of scheduled demonstrations is permitted. There is no skirmish or battle reenactment. Participants will be provided some meals and firewood. You are welcome to stay Saturday night to enjoy the spring and the Sugar Mill Restaurant. Restrooms and an outside shower are close by. Take US Hwy 17 North from Deland for approximately six miles, following the State Park signs. Turn left onto Ponce DeLeon Blvd and you will travel approximately one mile to the entrance to DeLeon Springs State Park.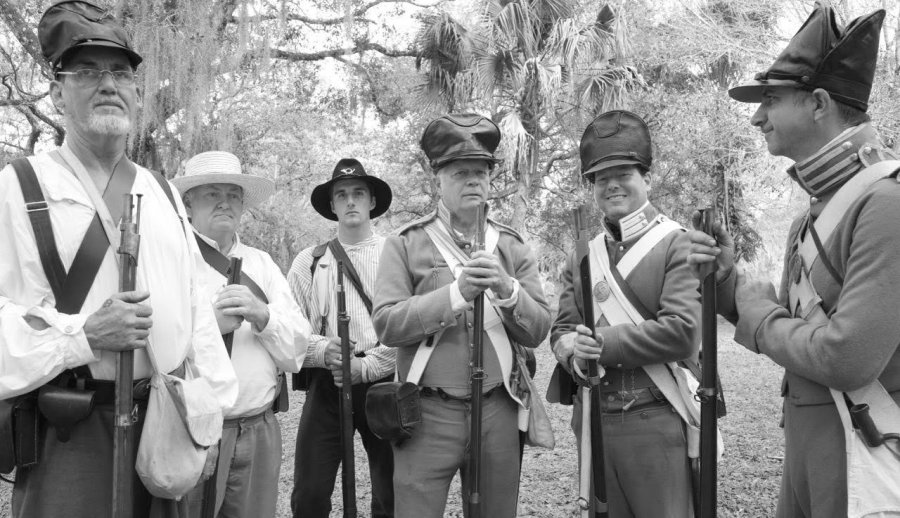 The last Fri-Sat in January. 2nd Seminole War Event. Loxahatchee Battlefield Reenact the 2 Battles of January of 1838 involving the Seminole and the 10th Tennessee, 15th Alabama volunteer infantry regiments, 2nd dragoons, and 4th US regular infantry. Reenactors must pre-register with volunteer coordinator, John Welch, at (561) 741-1359. For more info contact Guy Bachmann at guy1838@att.net or (561)736-7435. This location also offers a Battlefield Tour at 10:00 AM on the 3rd Saturday of each month. Loxahatchee Battlefield, 9060 Indiantown Road, Jupiter FL 33478.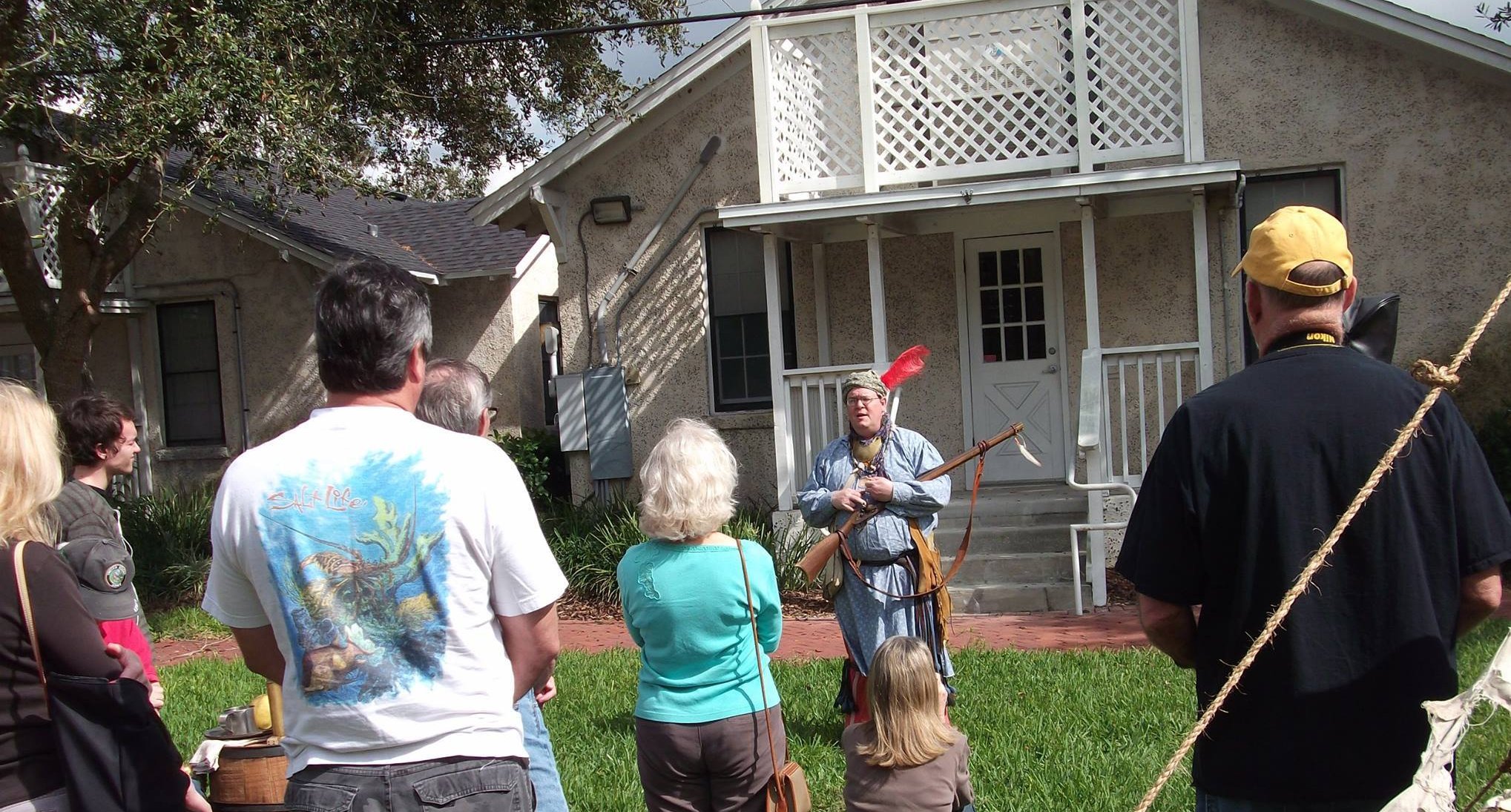 The first Saturday in February (Fri-Sat). 2nd Seminole War Living History. Museum of Seminole County History. The museum's annual Seminole War Encampment honoring the skirmish at Camp Fanning on Lake Monroe in 1837, during the Second Seminole War. Public Hours Sat 10 AM - 4 PM, Contact: BENNETT LLOYD, Phone: 407-665-2489, blloyd@seminolecountyfl.gov Address: 300 Eslinger Way, Sanford FL 32773.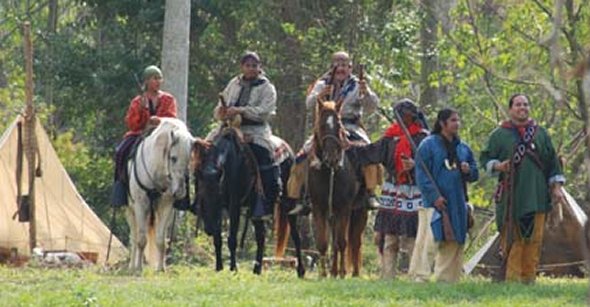 The last weekend in February (Sat-Sun). 2nd Seminole War Reenactment. Okeechobee Battlefield. The Battle of Okeechobee took place on 25 December 1837. The reenactment takes place on a 55 acre parcel of the original 640-acre battlefield site, most of which is in private ownership. From downtown Okeechobee, turn left/East when 441 comes to the T-junction at the North end of Lake Okeechobee, the site is located on 441 SE Two miles east of the Taylor Creek Bridge. 3500 SE 38TH Ave Okeechobee FL.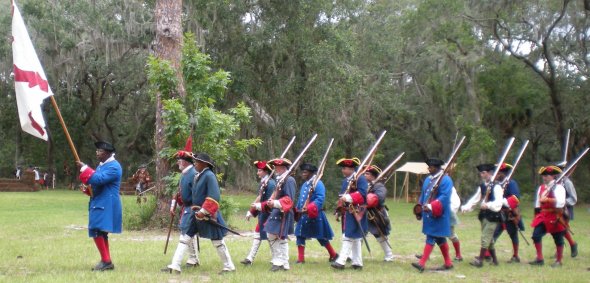 The Thurs.-Sat. of the 2nd Saturday in February. African, Spanish & Creek Event.Fort Mose Historic State Park. In 1738, the Spanish governor of Florida chartered the settlement of Gracia Real de Santa Teresa de Mose, or Fort Mose for short, as a settlement for those fleeing slavery from the English colonies in the Carolinas. Over the next 25 years, Fort Mose and Spanish Saint Augustine became a sanctuary for Africans seeking liberation from the tyranny of English slavery. In 1740, the British army marched into Florida and overran Fort Mose but days later Spanish and Fort Mose militia members defeated the British and prevented further invasion. Fort Mose was destroyed during this bloody battle. Join Fort Mose Historic State Park, the Fort Mose Historical Society, and Florida Living History Inc. as we commemorate the anniversary of the Battle of Bloody Mose. This historical re-enactment will include demonstrations of 18th century colonial and military life, children's activities, an African drumming demonstration, as well as battle re-enactments at 11:30 a.m. and 3:00 p.m. Limited parking is available at Fort Mose Historic State Park. Additional parking and a free shuttle service is available at the Old City Jail by Old Town Trolley. Regular park entrance fees apply to the public. 15 Fort Mose Trail St. Augustine Florida 32084, (904) 823-2232. Directions: From St. Augustine: From Hwy 1 in St. Augustine, drive north past Hwy 16. Look for a bronze statue on the right and a sign for Fort Mose. Turn right on Fort Mose Trail. Fort Mose Trail dead ends into Fort Mose picnic area and parking lot. From Jacksonville: Drive south on Hwy 1. Turn left on Fort Mose Trail. (If you pass Hwy 16 you've missed Fort Mose Trail.) Fort Mose Trail dead ends into Fort Mose picnic area and parking lot. History: Francisco Menendez was the head of the black militia based at Gracia Real de Santa Teresa de Mose. He is first traceable as a slave in South Carolina who, like many of his contemporaries, escaped to St. Augustine, Florida. In Florida he was granted his freedom as a subject to the King of Spain. From Fort Mose, Menendez led several raids on South Carolina. Menendez took to the seas on a Spanish ship to raid English vessels. During this time he was captured by the English and sold into slavery. He was then ransomed and returned to Florida. After his return to Florida he was asked to rebuild Fort Mose. The community of Gracia Real de Santa Teresa de Mose remained until the British took control of Florida in 1763 when they evacuated to Cuba where they founded a community called St. Augustine of the New Florida.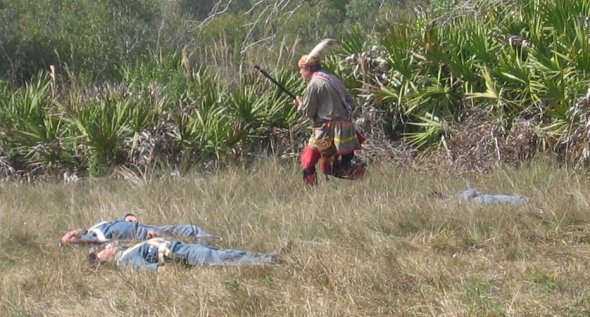 The 1st weekend in March. 2nd Seminole War Reenactment. Seminole Tribe of Florida (Date and location are subject to change, check web site to confirm.) Usually held at the Billie Swamp Safari in the Big Cypress Seminole Reservation, on Hwy 833 near Clewiston, FL. Turn west at the AH-TAH-THI-KI Museum, then after a couple miles turn right/north at the cell phone tower, towards the Swamp Safari. Living history for students on Friday. Battles on Sat & Sun. Modern & Period vendors. Competitions. Alligator wrestling. Breakfast and Supper for reenactors on Sat & Sun.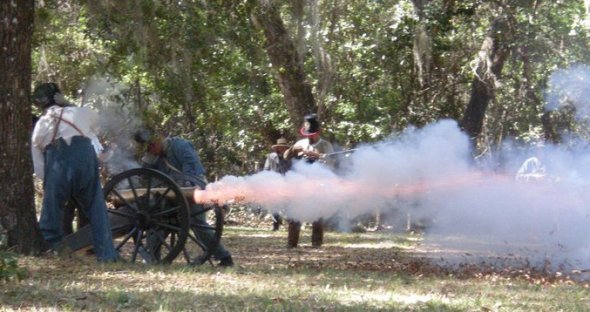 The 3rd weekend in March. 2nd Seminole War Reenactment. Fort Cooper Days. Fort Cooper State Park, 3100 S. Old Floral City Road, Inverness, Florida. From 9am to 4pm. Battle reenactments twice daily at 11am and 2pm. Living History demonstrations. Period Arts and Crafts. Entertainment, food and refreshments. General admission Adult $5 child 6 to 17 $1, under 6 free. From I-75, exit at SR-44 near Wildwood, take SR-44 West, once in Inverness, get into the left lane, turn left/South on US-41, get into the left lane, turn left at Eden Drive, then right/south at the stop sign, this puts you on Old Floral City Road, the park will be on your right less-than a mile up the road.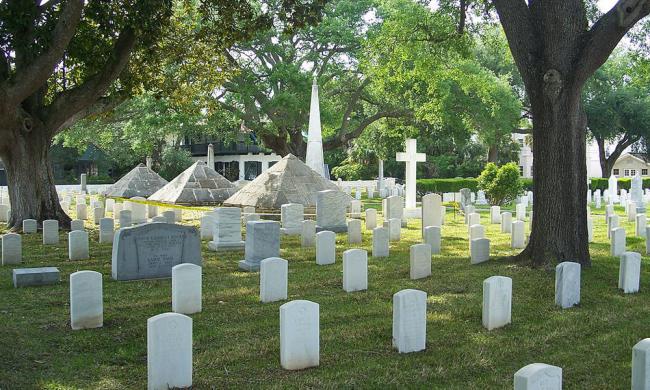 2nd Saturday in August, 10:30 to 11:30 A.M. Dade Memorial National Cemetery in St. Augustine 2nd Seminole War Commemoration. The event features a parade and a ceremony at the pyramids at the National Cemetery to honor all those who perished in that conflict. The parade or reenactors and public begins at 10:30 a.m., proceeding to the National Cemetery. This event is part of a three-day Convocation of Seminole War Historians that has been organized by the Seminole Wars Foundation, Inc. The convocation includes workshops, lectures, luncheons, and the presentation of awards. In 1842, officers, soldiers, and musicians paraded through the streets of St. Augustine to inter the casualties of the war in the gardens of the St. Francis Barracks. Three coquina pyramids were erected in the cemetery at that time to mark the burial place of more than 1,400 soldiers who died during those wars. The pyramids are known as the Dade Monument after Major Francis L. Dade, who was a leader in the Seminole Wars. This annual heritage event is organized by the West Point Society of North Florida and The Seminole Wars Foundation. The Saturday parade and the commemoration are free and open to the public. Other events during the Convocation of Seminole War Historians require registration. The National Cemetery is at 104 Marine Street in St. Augustine.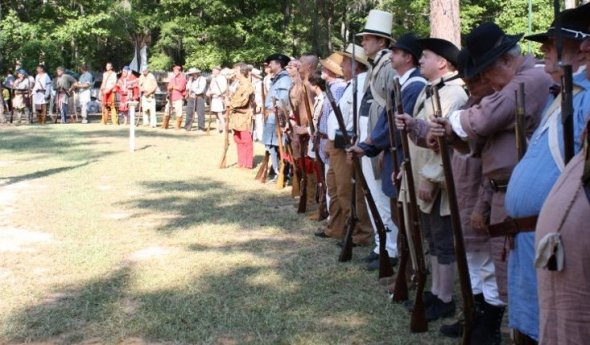 The 4th weekend in August. Creek War Event. Battle of Burt Corn at Fort Mims. Fort Mims Battle of 1813 Reenactment. Depicts reenactment of the battle of Burnt Corn and the battle of Fort Mims where 500 settlers, Indians, and militia lost their lives. Arts and crafts will be displayed, music, and food will be available. Small admission fee at gate. Port-O-Lets available. Limited spaces for mobile homes with electrical hook-up only.


The weekend (Sat-Sun) surrounding the 3rd Saturday in October. 2nd Seminole War Event. Alligator Warrior Festival at O'Leno State Park. Battle of San Felasco Hammock. Experience a Native American gathering, dancers, musicians, artisans, traders and a living history event that includes a reenactment of the 18 September 1836 Battle of San Felasco Hammock. The annual Alligator Warrior Festival celebrates the early history of Columbia County and Alachua County Florida, pre-1859. In 1859 Alligator Town was renamed Lake City. When Florida became a territory of the U.S.A. in 1821, settlers from the U.S.A. formed their own town of Alligator alongside the Seminole village of Alligator and they lived in peace. After the 1823 Treaty of Moultrie Creek, the inhabitants of Alligator Village agreed to relocate to the Peace River inside the new Seminole reservation. The best known person from Alligator Village was Alligator Warrior (Hvlpvtv Tvstvnvke). He lead a band of warriors defending against U.S. forces during the 2nd Seminole War. He and his warriors joined Ote Emathla (Jumper) in the ambush and defeat of Major Dade's troops. Along with Arpeika and Cooacochee, Halpatter Tustenugee was one of the leaders in the Battle of Lake Okeechobee on Christmas Day 1837 against the US army under Col. Zachary Taylor and Col. Richard Gentry of the Missouri volunteers. The location of the battle we reenact during the festival is preserved as the beautiful San Felaso Hammock State Park which is located a short drive South East of O'Leno State Park, along Hwy 441, just southeast of Alachua FL. O'Leno State Park, 410 SE Oleno Park Road, High Springs, Florida 32643. Reenactors, Demonstrators, Traders and other participants can download detailed information and the registration form from the event web site.


The weekend before Thanksgiving in November. 2nd Seminole War Event. Fort Christmas Militia Encampment 1300 Fort Christmas Road (C.R. 420) Christmas, Florida 32709, Ph: 407-568-4149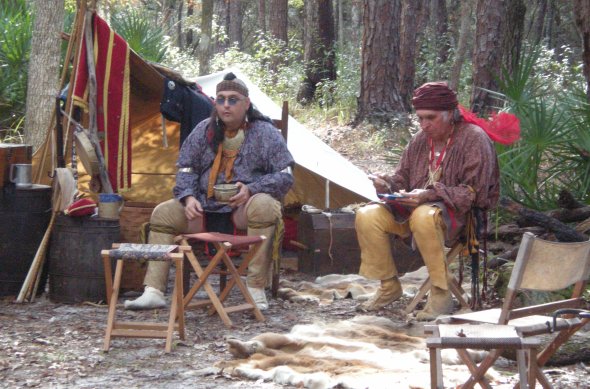 Fri-Sat of Thanksgiving weekend in November. 2nd Seminole War Living History Event. Manatee Springs State Park. Near Chiefland, FL. It is a "wagon" ride back in time to the mid-1800s. The highlight is a visit to a small Seminole encampment back in the woods near the Suwannee River.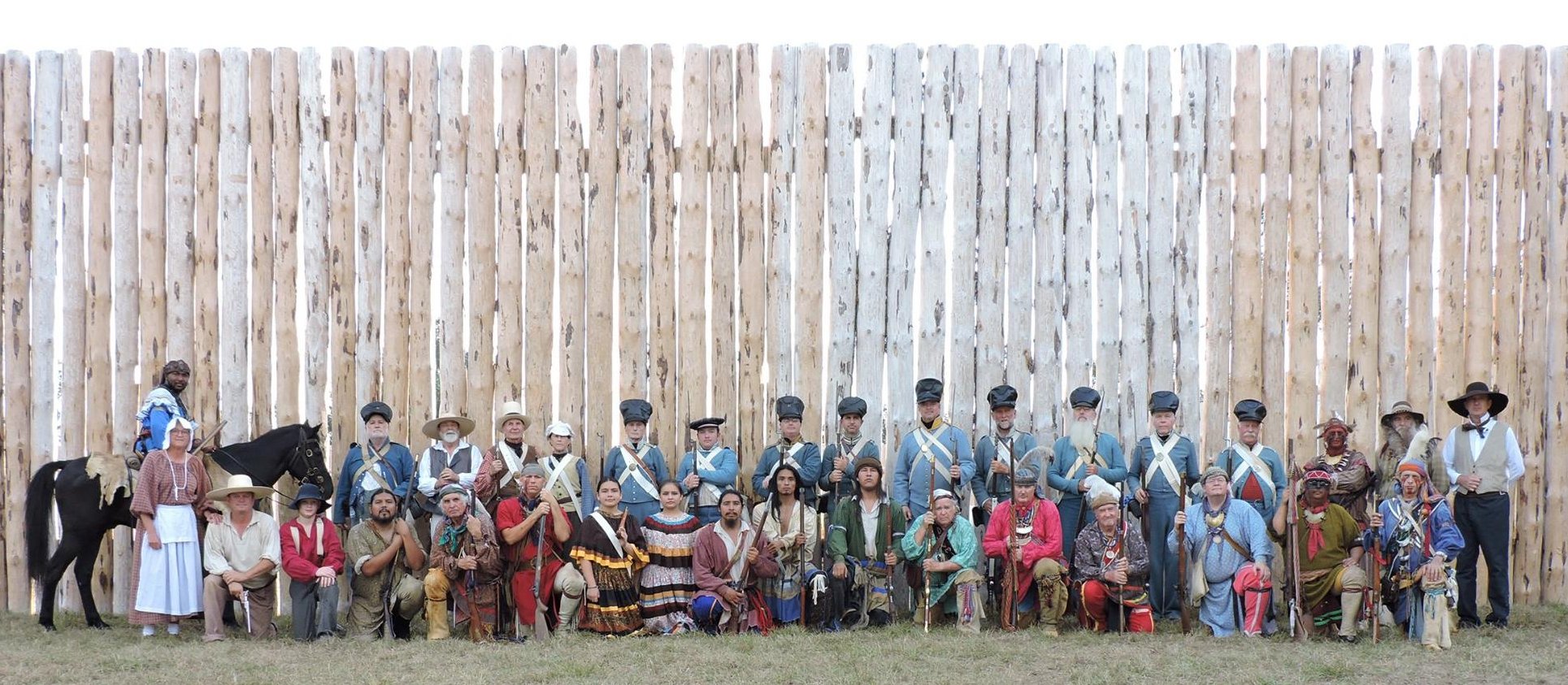 The 1st weekend (Sat-Sun) in December. 2nd Seminole War Event. Fort King annual event with a reenactment of the Dec. 28, 1835 attack that killed Agent Wiley Thompson. Plans are to have a reconstruction of the fort done by summer 2017. Reenactors contact: Bill Rodriguez, wcayro@ocalafl.org to register. Reenactor's will be fed breakfast and lunch. Primitive camping has been secured at Silver River State Park free of charge for all reenactor's. For those hosting an educational station, camping will be available, on site at Fort King. Showers will also be available at Fort King, free of charge, count on a cool one as we are sure to run out of hot water. 3925 East Fort King Street, Ocala, FL 34470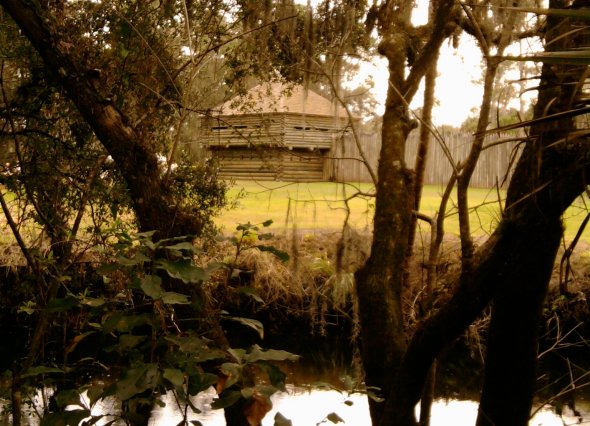 Fri-Sat of the 2nd weekend in December. 2nd Seminole War Event. Fort Foster annual battle reeactment and candlelight tour. The fort is across US-301 from Hillsborough River State Park, located 9 miles north of Tampa and 6 miles south of Zephyrhills on US Highway 301. From I-75, South bound from Ocala take the SR 54. Exit #279 east to Hwy 301, travel South for 6 miles, and the fort will be on your left-hand side. Seminole reenactors try to take the fort or burn the bridge as the reenactor soldiers defend it.
Living History Events in or near Florida - Other
Calendar of Civil War Reenactments
Fort Matanzas National Monument, The first Saturday of each month is Cannon Day at Fort Matanzas. (When the first weekend is a holiday weekend, Cannon Day will be the second Saturday.) Re-enactors present cannon firings for all tours except for the 9:30 and 4:30 tours. Check the calendar above for specific dates. Evening Torchlight Tours are presented on one Saturday night in January and February.
Spanish Grand Muster - Fourth Weekend in March
Fort Marion / Castillo de San Marcos
British Night Watch / The Grand Illumination
Alafia River Rendezvous, 3rd-4th Weekend in January, The Southeast's largest pre-1840 interpretive encampment; hosted by the Florida Frontiersmen, every year over 1,200 participants come to Homeland, FL and live in camps and portray many different cultures and regions of early America. Only the final Saturday is open to the public.
Powwows, Gatherings and Festivals in or near Florida
Six Directions Traders Powwow Calendar
The Spike calendar of Native Events