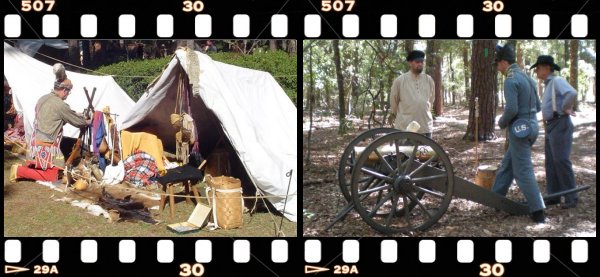 Click-here to watch a short video from the 2011 Alligator Warrior Festival on YouTube.
Courtesy of the Lake City Journal
Welcome to the web site of the Alligator Warrior Festival, an annual non-profit event, in memory of the years between 1800 and 1859, when Lake City Florida was still called Alligator, Florida, and in memory of its most famous resident, the Seminole commander, Alligator Warrior, and to reenact the 1836 Battle of San Felasco Hammock. In addition to the reenactment, the event is a festival that celebrates native American and immigrant American cultures with music and dancing, living-history camps, demonstrators of historic skills, traders, craftspeople, and food vendors.
The 2017 event runs from Friday October 20th to Sunday October 22nd. There are limited activities on Friday. Battle reenactments are scheduled for Saturday and Sunday only.
In any year, the festival is held on the Fri-Sun surrounding the 3rd Saturday in October.
School groups of all ages are welcome all weekend long but younger students are especially encouraged on Friday when reenactors will have the most time to dedicate to the students and literacy activities. There will not be a battle reenactment on Friday.
O'Leno State Park
410 S.E. Oleno Park Road
High Springs, Florida 32643
DIRECTIONS
From I-75, Exit onto US-441 S (Exit # 414)
and drive South on US-441 for about 5 miles.
Turn left onto SE Sprite Loop (Frontage Rd).
Turn left at the O'Leno State Park entrance sign.
From High Springs,
Drive north on US-41 N/US-441 N/N West Santa Fe Blvd for 6 miles.
Turn right onto SE Sprite Loop (Frontage Rd).
Turn right at the O'Leno State Park entrance sign.
GPS Coordinates 29.913849 degrees N x -82.580345 degrees W
Click here to find it on Google Maps.
State Park Entrance Fees Apply.
Free Entry for School Groups.
$5.00 per vehicle holding 2-8 people.
$4.00 Single Occupant Vehicle.
$2.00 Pedestrians, bicyclists, and additional passengers.
Fees are subject to change, please check the O'Leno State Park web site to confirm.
---
Download printable event promotion materials
Color poster for letter-sized paper
Black and white poster for letter-sized paper
Color leaflets, 4 leaflets/2-sided letter-sized page.
We look forward to seeing you at the Alligator Warrior Festival.
---
This event is organized by Alligator Festival of Lake City Florida, Inc., an all-volunteer, non-profit, public charity, dedicated to teaching and celebrating our local history by experiencing it together. The event is funded by the generosity of local business and individuals that care about bringing the long-time residents, recently arrived residents and tourists of north central Florida together to celebrate our local heritage. The income from the sponsorship, the annual donation raffle and donation auction during the festival goes entirely to support the annual event.
If you wish to be a sponsor of the Alligator Festival, please click on the SPONSOR US link on this page.
---
Traders, food and beverage vendors, demonstrators, reenactors, dancers, drums, dances, musicians and other volunteers please visit the REGISTRATION and VOLUNTEER links on this page for more information and to print a registration form.
School groups, members of the press, community leaders and sponsors please visit the REGISTRATION link on this page for more information and to print an RSVP form.